---
Reaktor
Reaktor by Native Instruments is by far the most powerful
and flexible synth I own. Here are a few of my Reaktor creations:
---
Wire Frame Synthesizer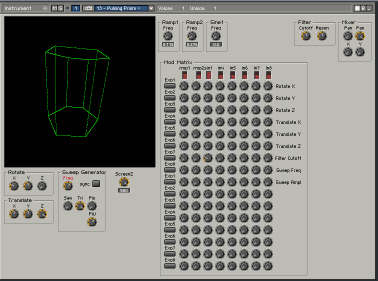 This ensemble generates 3D wireframe images on the XY module, then converts the X and Y values into sound. It produces some nice drone sounds. It'll even make a Super Tank from the game 'Battle Zone'.
Download it: (61K ZIP) (Created with Reaktor v4.1.3)
---
Star Trek Simulator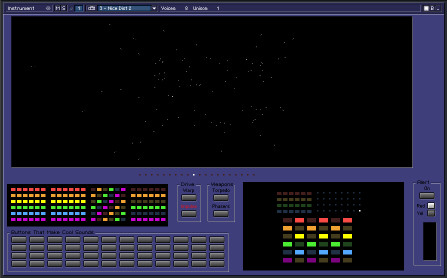 A basic simulator of the Enterprise from the original Star Trek series. So far you can change the speed, push buttons, fire the weapons, and turn the read alert on and off. Eventually I'll add steering and maybe other ships.
Download it: (7.1MB ZIP) (Created with Reaktor v4.1.3)
---
Guitar Synthesizer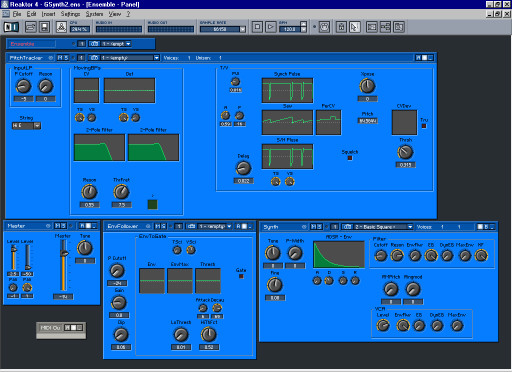 A monophonic guitar synthesizer that processes audio input from an electric guitar. The tracking algorithm is based on the blindingly fast analog pitch tracker of the Roland GR-300.
Download it: (11.8K ZIP) (Created with Reaktor v4.1.3)
---
Looper
This ensemble is a basic looping device with a sequencer that controls what's happening at any particular time.
Download it: (9.12K ZIP) (Created with Reaktor v4.1.3)
---
RCA Synthesizer Emulation
Big Band Synthesizer
ARP String Sounds
For the Continuum Fingerboard
---