---
The Roland GR-50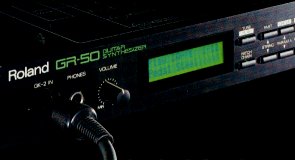 I bought this guitar synth in 1991 and used it extensively in the rock band Iconoclast where it functioned as both a guitar synth and as a MIDI sound module played from a keyboard. Here are some of the patches I came up with.
The ZIP contains a MIDI Sysex dump of the GR-50's entire memory. Keep in mind that if you play this file into your GR-50, it will REPLACE its entire contents with my sounds. So be sure you back up what's there first.
I recommend using the program MIDI-OX to play and record Sysex files from your GR-50. This program seems to send the data slow enough that the GR-50 can keep up! I also recommend joining the Roland GR-50 Yahoo Group, where you can download Sysex files including the Roland factory presets.
I'm kind of proud of some of these sounds; certainly a lot of work went into them. I always used a Boss SE-50 processor to beef up the GR-50. Some of these sounds are a lot more realistic with effects. The Rhodes sounds really nice with a phase shifter, and the Hammonds with a Leslie.
A lot of the patches contain unusual tunings or special setups to play some of my favorite classic fusion tunes by Weather Report and the Mahavishnu Orchestra.
My GR-50 Patches (6K ZIP)
A slightly altered version of the pipe organ sound (played from a MIDI keyboard) was used by University of Illinois Viola Professor Rudolf Haken for a performance of his composition 'Galapagos for Viola Pomposa and Orchestra', based on the book by Kurt Vonnegut. The work was performed by the Sinfonia da Camera on 2-19-2005 in the Foellinger Great Hall at the Krannert Center for the Performing Arts.
---