---
U of I Jazz Guitar Ensemble - Fall 2007 Concert
Held at the Studio Theater at Krannert Center for the Performing Arts, 11-11-2007. I played guitar on the Steve Reich piece.
Electric Counterpoint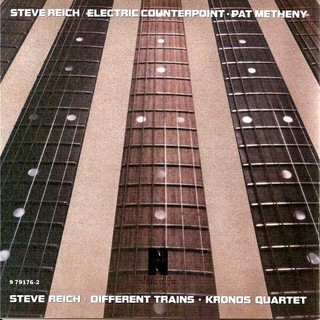 A really cool minimalist piece by Steve Reich that was recorded at one point by Pat Metheny with overdubs. We performed it with ELEVEN electric guitars, two electric basses, and a vibes player!
Personnel: Electric Guitar: Ian Murphy, Shawn Purcell, George Turner, Fred Miller, Paul Katsen, Sam Hastings, Taylor Briggs, Connor Grant, Mark Smart, Mark Ginsberg, Jeremy Zima Electric Bass: Rob Meier, Mark Ginsberg Vibes: Joel Carracci
Infant Eyes
Nice arrangement of Wayne Shorter's tune by Matt Warnock.
Personnel: Electric Guitar: Shawn Purcell, Connor Grant, Sam Hastings, George Turner, Ian Murphy, Fred Miller
McLaughlin
The "Wall to Wall Guitar Festival" had been held at Krannert a few months before this concert. Matt Warnock was inspired to write this piece based on a riff John McLaughlin played repeatedly during his performance.
Personnel: Electric Guitar: Shawn Purcell, Connor Grant, Sam Hastings, George Turner, Ian Murphy, Fred Miller Bass: Rob Meier Drums: Vibes: Joel Carracci
---